Welcome to a Reliable, Consistent Master Patient Index.
Right care, right patient.
eMPI Cleanup and Remediation
As the nation's premier eMPI solutions and remediation provider, e4health focuses on the overall integrity of the Master Patient Index. Maintaining a low duplicate medical record rate is undoubtedly important, but being able to limit the amount of duplicate records created is often overlooked. At e4health, we bring an unrivaled model of ensuring your MPI is best in class through our unique blend of lean methodologies, industry-leading subject matter experts, and a staff of more than 400 identity experts. We view every MPI as an opportunity to boost our client's patient care, and take that idea very seriously. Given the multiple patient entry points within a health system coupled with the growing number of mergers and acquisitions, patient misidentification opportunities abound.
Arm your organization with e4health's investigative and decision-making skills to ensure a clean and consistent eMPI.
We use a flexible approach, proven methodologies, analytical and reporting tools, and established workflows to deliver cost-effective, large-scale duplicate record identification and resolution.
People, Process, and Technology Ensure a Clean eMPI
Using advanced technology and smart algorithms, e4health creates a customized work plan based on your unique infrastructure and IT landscape. And by teaming with partners like Verato and Occam, we offer referential matching technology that simplifies processes, allows for scalability, and minimizes duplicate creation going forward.
e4health eMPI clean-up and maintenance benefits:
Complete medical records at the point of patient care
Improved patient safety from reduced medical errors
Stronger patient engagement and satisfaction
Enhanced mid-revenue cycle efficiency from decreased claims denials
Increased quality performance
Better provider satisfaction and productivity
Preserving Data Integrity During Epic Migration
For HIM and HIT, the biggest impact of M&A activity comes from merging EHR systems. Here's how two organizations made the most of eMPI cleanup, data abstraction, and validation.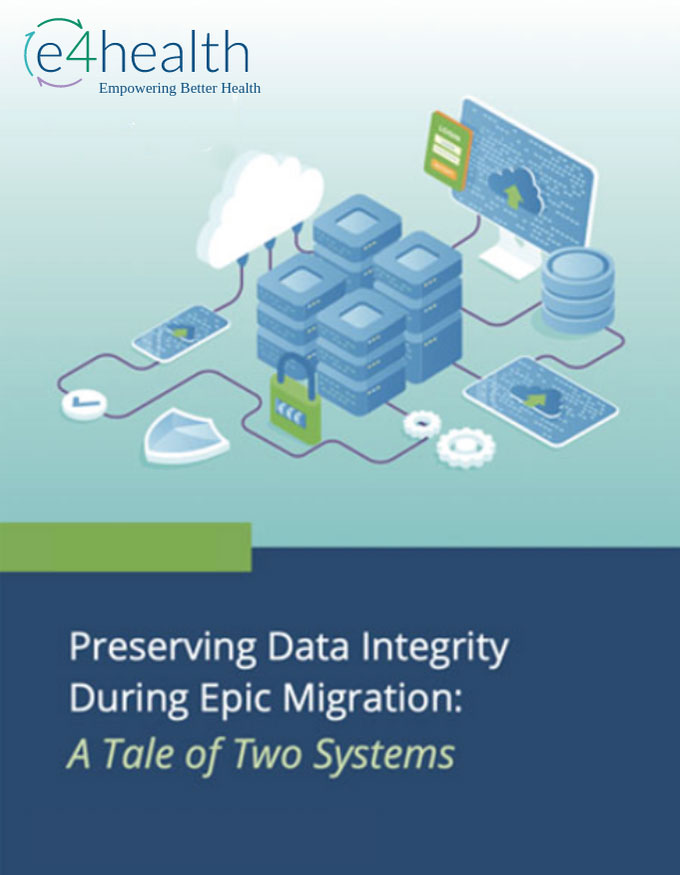 Ensuring patient identity is serious business. We're in it for the long haul.
In addition to one-time clean ups, e4health also provides eMPI ongoing maintenance services, including remediation and governance support. Our managed services maintain data integrity to ensure a clean, accurate eMPI.
For a cost-effective, fixed monthly fee, you can count on the following:
Reduction in costly, problematic duplicates.
Staff flexibility to focus on more valuable, mission-critical initiatives.
Assurance of a clean eMPI and effective data governance strategy.
Why choose e4health for your eMPI needs?
100% referenceable, satisfied clients
Simple, technology-driven approach
KPI reporting throughout the project
Achieve a duplicate rate of <1% – guaranteed!
"e4health ensured project timeliness, clear communications, and the ability to address challenges with a know-how that supports their expertise in data analysis."
– HIM Executive, Large Northeast Health System
eMPI Cleanup and Remediation
Achieve a clean, accurate master patient index and improve patient safety. No one starts faster.
Clinical Data Abstraction
Quickly target patient accounts that need data migration or chart prep.
Legacy Data Migration and Validation
Ensure patient data is transferred securely, completely, and accurately to improve clinician trust in quality migrated data. 
Scanning, Indexing, Recovery
Rapidly identify gaps and waste to improve document digitization, productivity, and quality.
Interim Leadership and Staffing
Harness e4health's insights and expertise in various settings, hospital sizes and case mixes.
HIM Productivity and Software Solutions
Easily capture and report workflow productivity, and identify and remediate duplicate data across EHR and revenue cycle systems.