Empowering Better Health
e4health tackles data, quality, and revenue challenges empowering your teams to focus on better care.
Accurate clinical and financial outcomes across your provider and mid-revenue cycle systems.
We deliver innovative healthcare solutions backed by a relentless commitment to integrity and data accuracy. Our expert teams collaborate to deliver results that ensure quality, productivity, and value for those we serve.
What's Your Top Priority?
Measurable results and value-driven outcomes benefiting both patients and providers.
Our flexible end-to-end solutions address mid-revenue cycle, data quality, and technology challenges so hospitals, outpatient providers, and physician practices maximize outcomes and gain efficiencies.
HIM Solutions
Leverage unmatched expertise for data migration and abstraction.
Coding + CDI
Achieve the highest levels of quality, productivity and revenue integrity.
Health IT Consulting
Drive successful EHR, HIT, and mid-revenue cycle systems change and optimization.
Mid-Revenue Cycle
Discover new efficiencies to reduce costs, enhance net revenue, and accelerate cash.
"e4health keeps an eye on things and comes with ideas or thoughts which builds our strength, trust and confidence. I like the fact that they started with an ICD-10 project, then helped with our Cerner Millennium upgrade and offered elbow-to-elbow training. If I went to any one of my e4health people, they would be all in."
Vice President, Information Systems, Large Northeast Health Network
"The cost savings we had were significant. I can personally say e4health took a tremendous amount of work and stress off my plate for the enterprise upgrade."
IT Executive, Northeast Independent Rehabilitation Network
"e4health is always available and provides additional support whenever requested, even at times with little notice due to volume increases. Their quality including the constant internal audits of their staff makes e4health a better partner."
Coding Executive, Large Northeast Health System
Our power is in our People.
We bring energy, passion, and technology to every engagement empowering your teams to deliver better care. As integrated partners we work together to solve your most difficult challenges, drive change, protect IT investments, and support your organization's long-term success.
Charts assessed and coded
Average of duplicate medical records reviewed
Hospitals and health systems continue to recognize the importance of collaborative cross-functional teamwork, especially during EHR and other major IT system changes. 
This guidebook shares e4health's proven best practices for IT system implementations. From pre-planning to team empowerment, and strategies to protect clinical data integrity, our guide empowers your organization to deliver better healthcare outcomes.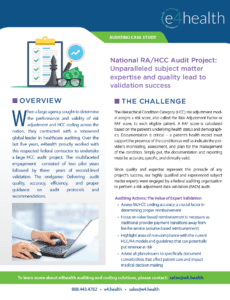 When a large agency sought to determine the performance and validity of risk adjustment and HCC coding across the nation, they contracted with a renowned global leader in healthcare auditing. Over the last five years, e4health has proudly worked with this respected federal contractor to undertake a large HCC audit project. The multifaceted engagement consisted of two pilot years followed by three years of second-level validation. The endgame: Delivering audit quality, accuracy, efficiency, and proper guidance on audit protocols and recommendations.
Join CDI leaders for a roundtable discussion regarding important, timely industry topics. The topic for December's discussion is: Clinical Validation. We will provide background on this topic, share industry insights, and facilitate collaborative discussion with guided questions and answers.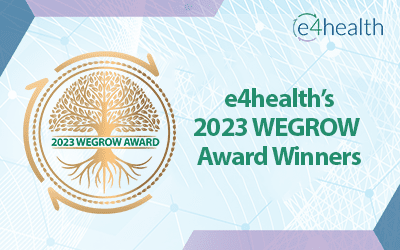 What is a WEGROW Award? Great question! Each year, we recognize and reward Team members that are living our values to support our vision of Empowering Better Health What Does WEGROW Mean? WEGROW is...