Innovative Technology Solutions
Software, tools, and analytics to reduce costs, optimize workflows, and improve quality metrics – with visible results that make an impact.
Simplify the Management of Complex Programs
e4health employs an innovative suite of proprietary software tools that have been refined over time. We use lean engineering to consistently enhance and accelerate desired clinical and financial outcomes for your most complex healthcare problems.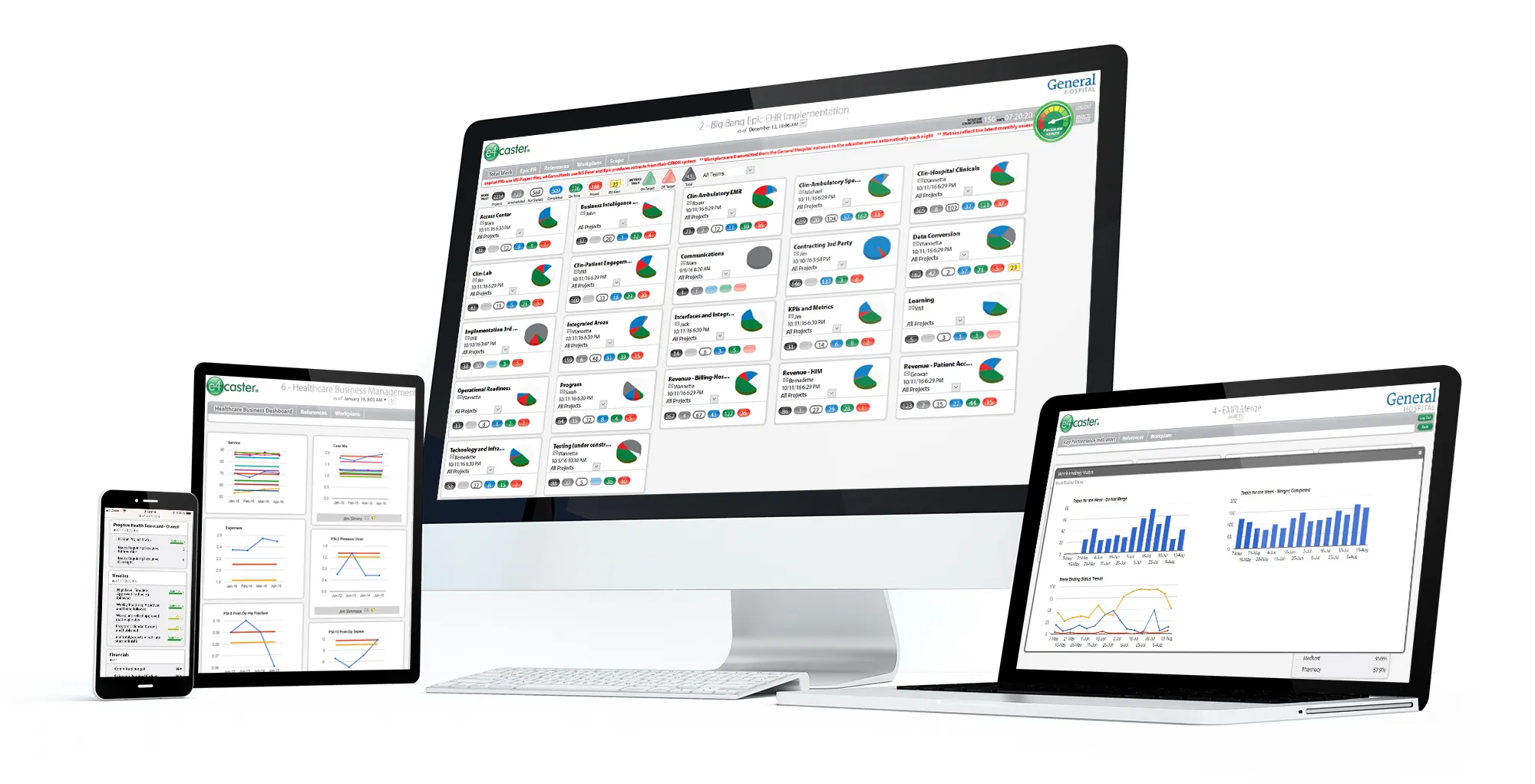 Realize lower program management costs and higher program success rates
e4health creates a solid foundation for your program using tools developed with lean methodology to build simple plans for complex projects. Our methodology was developed by experienced healthcare professionals to drive programs and workflow while delivering a transparent, timely, and accountable path forward for your team.
Explore our software solutions
e4caster®
e4caster® creates a clear, single page, executive summary of data that testifies to the status of work, metrics, timelines, ownership, and division of responsibilities. Most information in e4caster® is fed from other sources (typically multiple work plans) including MS Excel, MS Project, eclipse PPM, Orion, and other PPM tools.
e4sight®
This web application enables department managers to easily capture and report workflow productivity data for any work function, especially for health information management and mid-revenue cycle settings. A simple front end makes data entry fast and easy. The data collected helps managers understand where their team is spending their time. It captures productivity data for any function, monitors by user, team and by department, and tracks analytics over time to identify trends and improve awareness of areas needing improvement.
e4auditor™
This versatile coding quality auditing tool provides detailed analysis and customizable reporting for any audit type, including ProFee, Inpatient, Outpatient, HCC/Risk Adjustment, and ED. Users quickly analyze reimbursement and coding summary information, easily search for specific encounters, and access recommended educational opportunities.
e4analytics
An add-on to e4sight®, this application provides smart query capability into the workflow database. Coding managers use this tool to make decisions based upon information generated using a large array of "what if" scenarios.
Intellis IQ Education Center
Empower your teams and growth their skills with up-to-date world-class knowledge from HIM experts with decades of real-world experience in an easy-to-access, convenient web platform. Earn AHIMA or AAPC CEUs anytime, anywhere. Check out our IQ Center, create your FREE account, and start learning and earning CEUs.
Gain a competitive advantage
e4health technology solutions help healthcare executives make quick and precise decisions that result in lower costs, enhanced operating metrics, reduced program management costs, and higher success rates. Want to learn more? Contact us today for a free, personalized demo.