M&A Overview
Last year, President Joe Biden ordered the FTC and other federal agencies to promote market
competition in healthcare. Biden said hospital mergers and acquisitions had left the 10 largest
healthcare systems in control of a quarter of the market and led to the closure of hospitals in
rural and other underserved areas.
Yet even as antitrust enforcement builds, total revenue from hospital and health system
mergers and acquisitions (M&A) during the second quarter of 2022 far exceeded that of any
prior year's second quarter, according to Kaufman Hall's latest industry report. Some of the
largest healthcare systems are happy to merge. Or they're buying up surgery centers,
independent practices, and more.
The Kaufman report predicts a couple of reasons for the uptick. Hospitals need to find partners
that can help them continue to evolve, including growth in outpatient services, telehealth
programs, and home healthcare. And, smaller hospitals that face financial challenges may see
it's no longer viable to stay independent and may need partners.
Shifts in healthcare delivery, regulation, and expectations of providers can create both
opportunities and constraints when it comes to IT infrastructure during M&A. From security
risks to duplicate medical records, here are five important IT considerations during the process.
Three IT Considerations During M&A
1. Ensure IT Has a Voice During Due Diligence
M&A transactions require a thorough evaluation of complex IT requirements to encourage data sharing, pinpoint cost savings, and increase clinical value. While CIOs and IT leaders have gained a seat at the table during the due diligence process over the past few years, hard lessons are learned if IT is not part of early discussions. Thorough assessments of IT infrastructure, network capabilities, data centers, and more are required. This ensures a solid understanding of the applications environment and IT staffing requirements, which reduces unnecessary financial, technical, and security risks.
2. Conduct Security Risk Assessments
Introducing new business partners or taking part in a merger or acquisition comes with new security risks that must be considered. Ferdinand Hamada, managing director of healthcare at MorganFranklin Cyber, predicts that a high volume of M&A activity will continue into the rest of 2022, and he encourages healthcare organizations to conduct thorough risk assessments and make sure that new business partners are aligned with the organization's existing security processes and controls.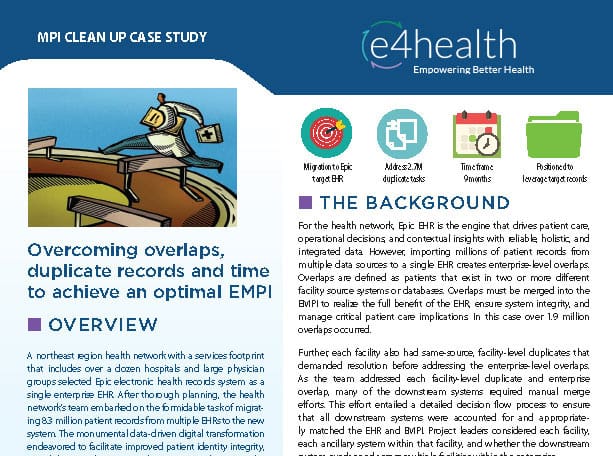 3. Prioritize Master Patient Index Cleanup
The sheer complexity of migrating millions of patient records from multiple EHRs into a new system can't be overlooked. A master patient index (MPI) cleanup strategy to tackle all disparate systems and duplicate patient information across facilities is crucial. In fact, when done right, this endeavor enhances patient identity integrity, care delivery, and revenue cycle activities. Case in point: A NJ-based health system that underwent a combination of different M&As over seven years was tasked with migrating Epic into 14 hospitals and 1,000 providers. The consolidation happened over time, where multiple organizations came together and made for a challenging situation. There were nine different EHR systems and approximately 650 downstream systems, including labs, radiology, respiratory, and more. After thorough planning, the health network's team embarked on the formidable task of migrating 8.3 million patient records from multiple EHRs to the new system. You can learn more about this project here.
Keep IT Agile During M&A
With no end in sight to M&A activity, it is imperative that CIOs and IT leaders get involved early
on to plan for the situations listed above. Keeping information systems agile, adaptable,
efficient, and powerful across healthcare organizations is essential. Click here to learn how
Intellis can support MPI cleanup and more.
---
By Glenn Schweidler, RHIA
Chief Operations Officer and Partner