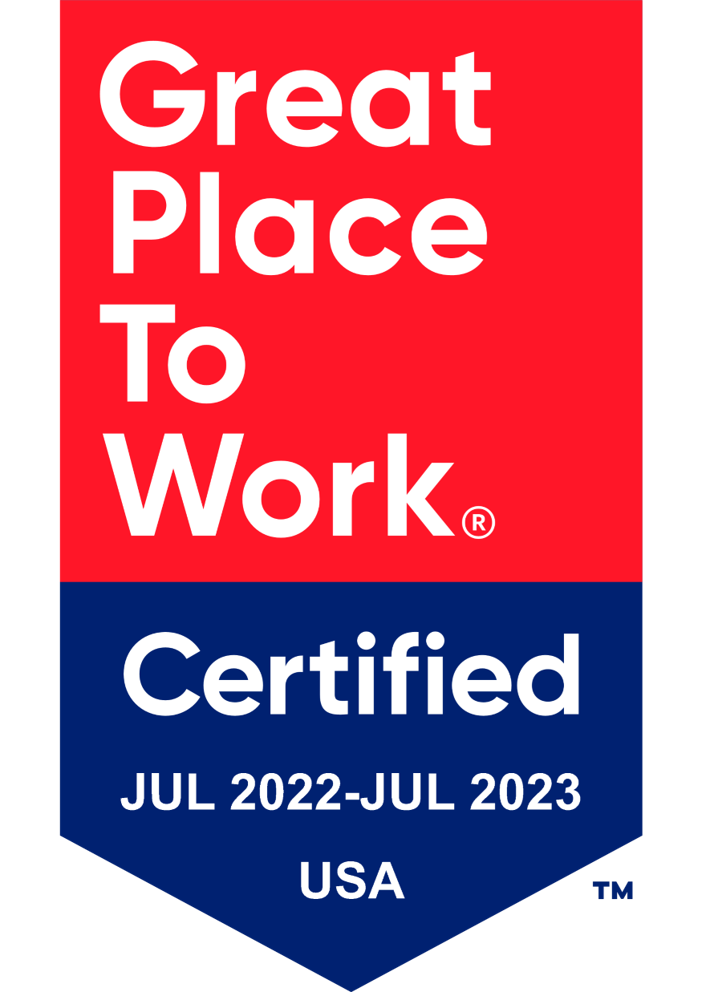 e4health, a leading provider of strategic solutions, expertise, and services to hospitals and healthcare systems across the United States, has been officially certified as a Great Place to Work™ for the second year in a row.
"By successfully earning this recognition, we are proud that e4health stands out as one of the top companies to work for, providing an inclusive, high-performing workplace experience for our Team members," said e4health Chief Executive Officer Matthew Zubiller. "We are consistently dedicated to improving our Team member experience and will use feedback from the Great Place to Work® survey to focus on areas where we can make that experience even better."
Great Place To Work® is the global authority on workplace culture, employee experience, and the leadership behaviors proven to deliver market-leading revenue, employee retention and increased innovation. "Great Place To Work Certification® is a highly coveted achievement that requires consistent and intentional dedication to the overall employee experience," said Sarah Lewis-Kulin, the Vice President of Global Recognition at Great Place To Work®. Lewis-Kulin added that certification is the sole official recognition earned by the real-time feedback of team members regarding their company culture. "By successfully earning this recognition, it is evident that e4health stands out as one of the top companies to work for, providing a great workplace environment for its employees."
"Our People make the difference," added e4health Vice President of Talent Jennifer Thomas. "The success of our organization lies entirely in our Team members' hands and the outstanding work they do for our customers. We're proud to share that 85% of employees say e4health is a Great Place to Work™ – 28 points higher than the average U.S. company!" 
e4health invests in its Team by fostering an innovative culture that embraces change, fun, and ongoing learning. By leveraging its IQ Education Center and industry-leading education team, e4health provides powerful education and training to empower staff to grow to the best of their abilities.
To further strengthen Team member engagement, e4health has launched an internal advocacy group to ensure the Team member voice is represented in company decision making. The e4health Culture Council advises the executive leadership team on strategies, policies, and initiatives related to new and existing talent engagement, and helps to implement ideas and initiatives to support the e4health community.
The e4health Team now spans more than 1,000 healthcare professionals across the nation and globally. Learn more e4health's core values and commitment to Empowering Better Health at e4.health/careers.
About e4health
e4health is Empowering Better Health. Serving more than 400 health systems and providers nationwide, e4health solves the most difficult challenges in the mid-revenue cycle with innovative and flexible healthcare solutions that deliver results, drive change, protect investments, and support long term value. For nearly two decades, e4health has been caring for the teams who care for others by delivering world-class solutions in IT, HIM, coding, and CDI to increase quality, productivity, and value throughout the mid-revenue cycle. Learn more at e4.health.
About Great Place To Work®
Great Place To Work® is the global authority on workplace culture. Since 1992, it has surveyed more than 100 million employees worldwide and used those deep insights to define what makes a great workplace: trust. Its employee survey platform empowers leaders with the feedback, real-time reporting, and insights they need to make data-driven people decisions. Everything it does is driven by its mission to build a better world by helping every organization become a great place to work for all.