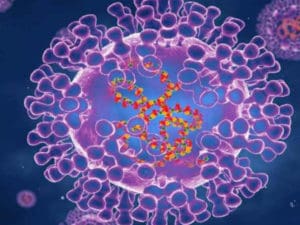 The World Health Organization (WHO) declared monkeypox a public health emergency of international concern on July 23rd, 2022. Following consultations with global experts, WHO began using a new preferred term, "mpox" as a synonym for monkeypox. Both names are used simultaneously for one year while "monkeypox" is phased out.
Most patients will not be admitted to the hospital with mpox, but some patients with weakened immune systems, children under age 8, and pregnant or breastfeeding women can experience serious illness.
When a pregnant patient with mpox is encountered and mpox is the only complication, assign O98.51 – Other viral disease complicating pregnancy. The trimester is required, plus a Z code for the completed weeks of pregnancy. Assign B04 for mpox as well.  
BUT
It is also important to look for other complications such as Bronchopneumonia resulting in respiratory complications, Sepsis with organ failure, and in severe cases, neurological manifestations such as encephalitis with seizures or Guillain-Barre.
A query may be required to link mpox to sepsis, pneumonia, and other complications. Watch for neurological signs and symptoms without a diagnosis and query to clarify.